1 Credit = 1 Report with no exceptions – that's any size, any complexity*
Includes free 24/7 report access, storage, and audit trail
Simple – No Tie-Ins Or Hidden Extras
We don't tie you in with contracts, or minimum and maximum usage clauses, so you never pay for capacity you don't need or want – ideal if business is slow during winter or because of Covid-19. And we include everything free as standard, from white label to adding your logo, so there are no hidden surprises.
Fast – No Set-Up Costs Or Hassle
You can download and start using our App in seconds, without having to set up expensive contracts or subscriptions. And you can leave at any time, with no exit fees to pay. That keeps your overheads low and your cash in your pocket.
You can save money with our Four Ways To Save, including up to a whopping 40% off with our 'More You Buy Deal'. Check out our Credit Store price list below or in App to see how buying more credits saves you more money.
In App – you can buy 3 to 100 credits with our In App purchases (call us to purchase 101+ credits or more). This is the most expensive way to buy credits
By Phone – you can save money when buying 20 credits or more, by calling us and paying by debit card, credit card, or bank transfer. This is the cheapest way to buy credits
The more you buy saving
Phone purchase bonus – get 5% extra credits when you buy more than 20 credits by phone
IPIC bonus – get 10% extra credits if you're an Institute of Professional Inventory Clerks member (Minimum purchase 10 Credits)
Bulk Purchase discount – save up to 25% when you buy in bulk (Bulk Purchases start at 350 credits; saving shown is based on 1,000 credits). You can get your credits straight away, but pay over 12 months by direct debit with our interest-free monthly payment plan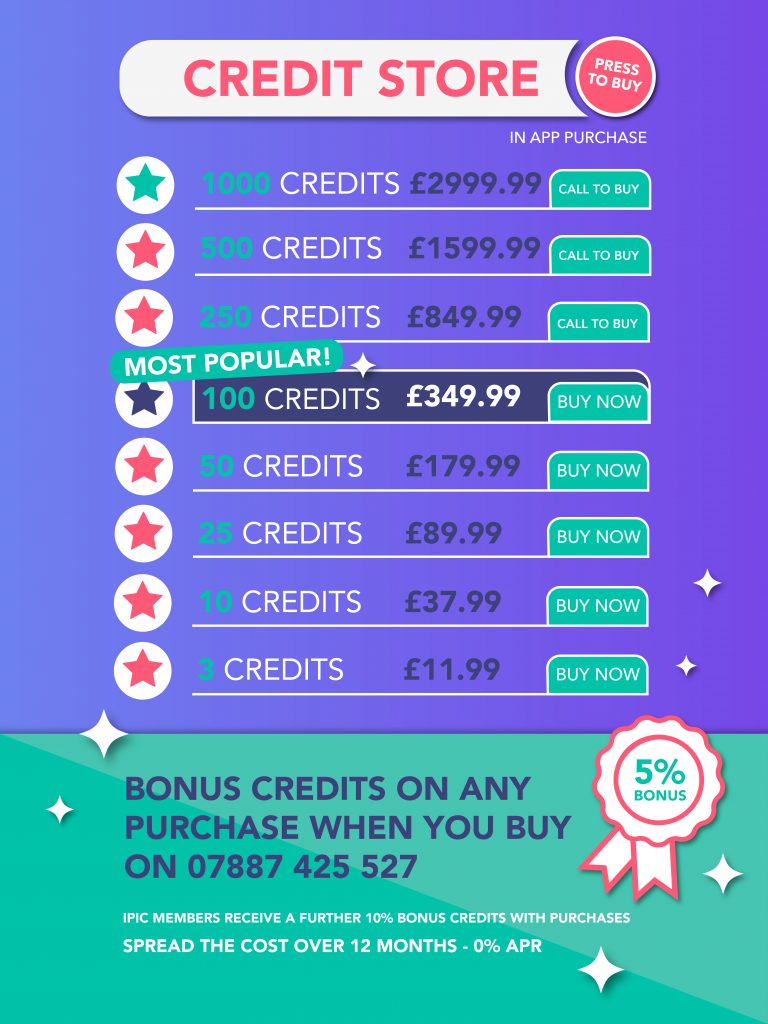 To say thank you to our loyal customers and new clients, we are not charging VAT on purchases right now. This offer is for a limited time, and will change without notice, so buy your credits now to save money
*translation cost 3x credits per report
All prices quoted are exclusive of VAT
Subject to terms and conditions
Terms & Conditions of Sale
Supplier means Professional Inventories Ltd
Customer means purchaser of credits and/or user of App
Primary email address – means the email address the Customer wants the Supplier to send all communication to (usually the email address used to register the App account) 
By purchasing credits, the Customer agrees to these Terms & Conditions of Sale
Free 5% credits is only for purchases of 25 credits or more via phone
Free credits are rounded up to the nearest credit for percentage use (e.g. 2.5 free credits will be rounded up to 3 free credits)
Due Date is the date in the month the credits were initially transferred to the
Customer's account on that Bulk Purchase
Bulk Purchase via monthly instalments: if payment is not paid by 7 days past the agreed payment date, a £10.00 per calendar month Admin fee, or part thereof, will be charged from and all discounts withdrawn from the remaining payments
If monthly instalments are two months in arrears (past Due Date), the account will be suspended by the Supplier until all arrears and one month in advance monthly payment and admin fees have been paid in full
Once credits are purchased, they cannot be returned to the Supplier for a cash value or credit note. All transactions are final, with no refunds
If Customer account has not been used to create at least one finalised report, or had new credits added, in a 24 month continuous period, the account may be closed and all remaining credits deleted without financial compensation to the Customer. Supplier must give 1 month's notice to the Customer via the Primary Email Address used by the Customer to register their account, or the current Primary Email Address in the account
It is the Customer's responsibility to ensure their account's Primary Email Address is valid
Zero VAT offer can be withdrawn without notice
Discounts and price per credit can be changed without notice
When purchasing credits via an ongoing monthly direct debit plan, the price per credit is fixed at the time of purchase and will not increase for that particular invoice/purchase
Discounts and free credits are as stated and have no cash in value
These terms and conditions are subject to UK law, and all legal actions will only be undertaken in UK courts of law, regardless where in the world the purchase transaction is initiated, started from, travels through, or is completed in
These terms and conditions can be updated, changed, or modified with 28 days' written notice, which shall be issued via a push notification in App and/or to the Primary Email Address
Start Using Professional Inventories
Join the dozens of Agents using Professional Inventories Ltd